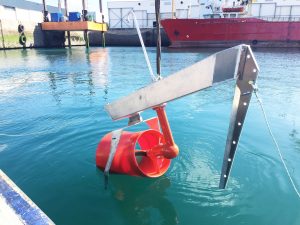 Installation of P66 In French Guyana
Guinard Energies has carried out demonstrations of its P66 tidal turbine, in Brest harbor last weeks.This hydrokinetic turbine will be deployed very soon in French Guiana.
The P66 turbine, 3.5 kW, will provide electricity to a CNRS research station, which is now powered by a genset. The inverter developed by Guinard Energies will manage the hybrid production system from renewables energies – photovoltaics panels, the P66 turbine and batteries, will provide electricity to the station in an optimum way.
Easy operation
The choice of materials and its small size simplify installation and maintenance operations. Those advantages will allow the hydrokinetic turbine to be exported to isolated areas, devoid of infrastructure. The turbine requires 1.50 m water depth and starts from 1.2 m/s of current speed.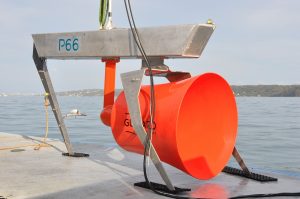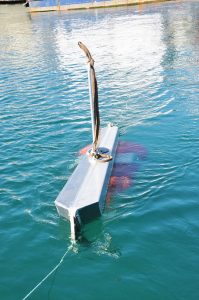 100% local partnerships
The last hybrid electricity production demonstration sessions showed the perfect validation of all laboratory forecasts, thanks to a fruitful collaboration between ISEN, Brest enegineering school, Navtis, a Brest naval shipyard, and Entech form Quimper.
Ongoing projects
The Guinard Energies teams are now working on the ramp-up of its turbines. The development of the P154, 20 kW, is underway. The installation of the P400 (4 meter diameter, 250 kW), with its self-ballasting floating base will be set in 2018, in Ria d'Etel (Morbihan).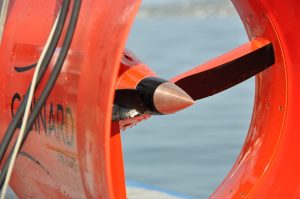 The hydrokinetic turbine exported