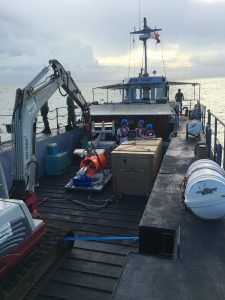 The hydro kinetic power assessment system POSEIDE is just coming back from French Guiana!
It has been successfully deployed to measure the available power around the "Salut" Islands, owned by the CNES : French Spatial Studies Center. The small MegaWattBlue turbine, with its data acquisition system had the chance to enjoy the warm and turbid water coming from the Bresilian stream.
Did you know...? The current around the "Salut" Islands was famous for beeing fatal to the convict of the french penal colony!
The measurment campaign lengthed eight days, from 8th to 16th of november, over the whole tidal range. The mission was led with success by the Guinard team, with help from the French Army 3rd REI (a.k.a "Légion Etrangère"), which provided the nautical support "Anne-Marie", an equipment transportation barge, and its valorous crew.
The POSEIDE system was lowered in water by mean of a small excavator, which shows the particular handiness of the system.
Guinard Energies would like to warmly thank the CNES, which made the mission possible, as well as the men of 3rd REI for their astonishing and valuable support.
The POSEIDE hydro kinetic power assessment system will be ready by the end of 2016, to hopefully drive a new campaign, in Britany, or elsewhere.