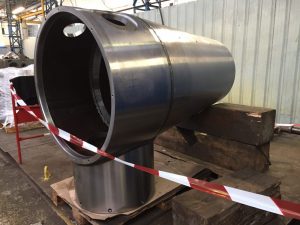 Since Fall 2016, a 4 meter hydrokinetic turbine MegaWattBlue is being built. The duct is assembled at the shipyard Chantier Bretagne Sud in Belz. This 4 meter diameter and 6 meter duct length will streamline and speed up the current speed of 40 %. 
The base of the turbine is assembled in Navtis shipyard in Brest and the 250 kW alternator is on test phase at Bernard and Bonnefond Office in St Etienne. 
The tidal turbine will be set with its innovative self-buoyant base during Fall/Winter 2017/2018.